Overview
The Sulfur in Oil EDXRF (Energy Dispersive X-Ray Fluorescence) Analyser Complying with ASTM Method 4294
Sulfur is a major element of importance because it forms sulfuric acid in the atmosphere when burned and has harmful impact on the human health and on the environment.
The EDXRF9000E Are the simplest, most accurate, non-destructive and price-performance competitive analyzers that can deliver quickly very accurate and precise measurements of sulfur meeting stringent ASTM method requirements.
Features and Benefits
•Rugged, compact elemental analyzer for repeatable and reproducible results in laboratories
production environments and mobile operations.
• Intuitive interface is displayed on the large, industrial touchscreen.
• Streamlined software and one-touch measurement start makes it easy for any operator
to get high quality results.
• Training for routine analysis takes only minutes.
• Atmospheric compensation allows analysis without the need for helium or vacuum purge, minimizing the cost per analysis.
• Automatic carbon/hydrogen (C/H) ratio correction allows the analysis of multiple types of oils and fuels to be made on a single calibration, simplifying analyzer setup and operation
• X-ray tube and detector are operated in conditions designed to ensure long-term reliability.
• Built for tough environments.
• Software inspired by point-and-shoot hand-held analyzers.
• Entire display area is dedicated to routine analysis
• One-touch measurement start for routine testing
• On-board data storage of up to 100,000 results, including spectra
• Low cost of maintenance
Ø Easy Sample prepare and user-friendly operation.
Ø No gas consumption or vacuum needed.
Specifications
>Factory Calibration included:
Low sulfur: 10ppm- 100ppm, or
High sulfur: 1%-15%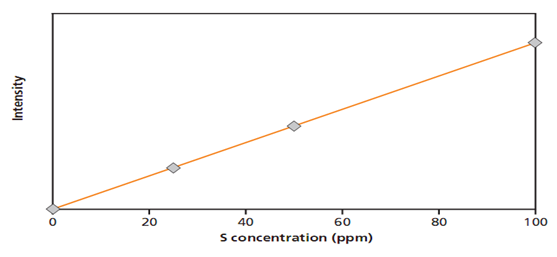 >Dimension: 380×372×362mm
>Fast SDD detector resolution proves the most excellent test performance
Area: 70 mm2
Energy resolution: 130 eV at Mn Kα
Count rate: 500 000 cps
>Compliance:
Conform to test methods and standards such as ASTM D4294, ISO 8754, ISO 20847,
IP 336.
High precision results without daily calibration needed.
Test report of Sulfur in oil standard samples
Unit:

PPM

Test Time: 100 seconds

No.

Calibration

300ppm

1000ppm

10000ppm

1

Crude Oil

297

1001

10080

2

Crude Oil

293

998

9993

3

Crude Oil

305

1017

9982

4

Crude Oil

295

1008

9918

5

Crude Oil

291

1007

9978

6

Crude Oil

309

990

10068

7

Crude Oil

312

995

9986

8

Crude Oil

316

1015

9999

9

Crude Oil

307

1010

9918

10

Crude Oil

313

999

9928

11

Crude Oil

302

1016

9958

Certified Value

300

1000

10000

Average Test Result

304

1005

9983

Standard Deviation Sn

8.64

9.10

53.96

Error ppm

4

5

-17

RSD

2.85%

0.91%

0.54%
We offers a full range of technical support to keep you up and running.
Our Service
>Telephone help-desks
For a fast response to your problem.
>Remote diagnostics
In-depth support over the internet.
>Preventive maintenance
Ensures your analyzer produces the right result year after year
>Consumables and accessories
From sample preparation to calibration standards.